(This is going to be lengthy and filled with personal opinions. I know a lot of people are scared of those.)
It's no secret that I have seen a lot of anime over the years and actively continue to watch new and old shows. Also read manga quite often, but not as keen on that stuff as I mostly only ever read Gantz and Berserk! here and there. As cool as manga is to me, I'm definitely way more of an anime fiend than a manga one. As much as I like manga and how it has the ability to get away with things you really couldn't in an anime without running the risk of turning it into hentai, it also never ends. I've read some stuff from 05 that is still carrying on strong now, and I just can't stick to something that refuses to end. 26 episodes and it's over, that's the way I like it which is why I'm an anime fiend.
It all started with Naruto for me, then progressed from there to Tri-Gun and Cowboy Bebop. Then eventually I ended up watching a show called Elfen Lied. That right there was the point of no return, so to speak. That show played catalyst to my eventual obsession with anime, which lead to my watching up to twelve episodes of a show a day on my days off of work. Over a span of 6 months I think I might have watched more than 60+ shows. This is when I was still twenty years old and I wanted to watch everything in sight and learn everything that I could about everything placed in front of me. At this point in time I don't think it would be an exaggeration to say I've probably watched some 200 shows. But keep in mind this has been over a period of nearly 4 years as I'll be twenty-four in two weeks as of this writing.
One thing I've learned from my years of watching anime is that a lot of those shows have some of the best endings of anything I've ever watched. This is also the reason I could never do a manga 'best endings', because manga series' never seem to fucking end. As stated before I've watched a ton of anime, and from all of that 'no lifing it' I bring you the best four anime endings of all time.. IMHO:
Tri-Gun - Knives vs. Vash
If you've never watched trigun stop reading this right now and go watch it. If you really don't give a fux and like to party then welcome to the party. We're giving out 'I DON'T GIVE A FUX' tees in the back. ---- Pretty much Knives vs. Vash has to be one of the coolest endings to a show of all time. Just the utter nonchalance of Knives as Vash shows up filled with such vigor knowing that he's going to fight his only brother to the death. They're the only two of their kind, but Knives is rotten, a generally evil-minded humanoid whom Vash had always wanted to change. Alas you can't always get what you want, amirite Rolling Stones?!
That showdown was so beautifully climactic that it deserves an award for being fucking awesome! Fanboy aside, the build to it and just the way it's structured with Vash finally finishing Knives with Wolfwood's cross is so intense. I sometimes skip right to that last episode and watch the fight scene and it still hits the same as if I would have watched through all the stories, through the Bluesummers arc, the destroyer of July bit, and so forth. It still hits the same because of how powerful it is. You're left knowing this is it,
it's over
. This is definitely my favorite ending, because even though I saw it when I was like 20 it still holds a lot of significance for me. It's the kind of elegance I strive for when I write.
Darker Than Black: Gemini of the Meteor - Shion makes a world for Suo
Alright so I'm not the type to gush over anime like a little bitch, but this is by far one of the most amazing endings in any form ever. This might have been done before somewhere else and this just a rip off, but as far as I know it's never been done before.
Just the fact that the whole time Shion was creating the perfect world for Suo to live in when she 'died' or what have you was so amazing, so astoundingly brilliant. It's hard to describe the feeling I got when I saw Suo getting ready for school and having everyone around her again. There was something so serene about it that I had to go outside and take a breath and really evaluate myself as a writer, because the fact that someone could write such an amazing piece as that ending means that there are still exceptional artists out there. Not everyone has gone over the the Twilight/50 Shades of STFU side.
Throughout the course of the series I felt bad for Suo, which is a hard thing to make me do for characters, especially in anime. As much as I love anime, rarely do I ever find myself feeling bad for any one in these shows the way I felt for Suo. She has everything ripped from her like nothing and still she tries to come out on top, just to have it all ripped away from her again. It feels like she earned that world Shion crafted for her. She deserved that world.
Gurren Lagann - Simon the Beggar
(see what I did there? No? Ehh.)
This would be a bullshit list if it didn't include Gurren Lagann in here somewhere. I have to talk about this ending because it is such an amazing end to one of the best anime series' ever to exist. Everything that happens in Gurren Lagann, right from Simon digging his way out of that underground village along with Kamina, has an impact on the whole. Everything that happens in that show leads to an end and that end takes a hard right and heads in a different direction till it hits another wall. The conflict is never ceasing and basically consumes all of Simon's life all the way into his adulthood.
There's that period of peace where everyone is fine and dandy and humanity is slowly reaching it's 1,000,000th person. Once that number is hit, those silly bastards the Anti-Spiral come down to Earth to screw everything up and destroy humanity. This is like the third arc in this series that carries it's characters over a pretty lengthy period of time, which I must give props for pulling off in only 27 episodes.
After everything is said and done and Earth is finally freed Simon disappears and essentially becomes a vegabond, like Jules' epiphany in Pulp Fiction. It's so oddly fitting for Simon to take that turn and fade away into obscurity. Here's a guy who basically saved all of humanity and beastmen, who led this fucking charge against the Anti-Spirals. He loses the love of his life in the conflict, a fate both he and Nia knew inevitable, but he accepts it like a boss.
At the end he talks to this little kid who has absolutely no idea who he is, calling the guy 'mister'. He gives the kid a pointer in using a drill to crack what looks like a coconut, and the kid exclaims with glee "Thanks mister!" Simon responds "Just who the hell do you think I am?!" The kid blows him off and he momentarily re-evaluates his worth saying "Eh, I guess I'm no one." It was, for lack of a better word,
perfect
. This is a guy who's been through hell and a half and deserves all the recognition in the world, but instead desires obscurity, and finds solace in something so trivial and simple as helping a child crack a coconut.
Elfen Lied - Mariko's end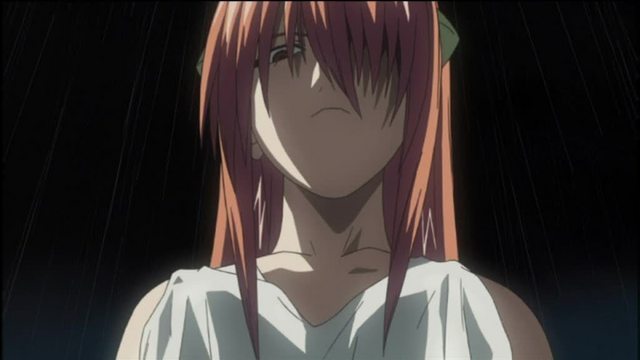 This is the show that started it all for me as an anime fiend. This is the ending that made me want to make anime one day. The quintessential anime ending, if you will my droogs. Most of us know by now that most anime has some really depressing endings, that may or may not leave you with lots of questions. Sometimes they'll leave you feeling hollow because of the death of your favorite character, or because that character moves on leaving his/her cohorts behind to follow some predestined path alone. Whatever the case may be, most anime has this as a built-in way to finish everything, usually going out with a 'bang' (again for lack of a better word).
The way Elfen Lied ended made me want to run out to Goodwill, buy a type writer and immediately delve head first into my own fictional world where chicks with horns exist and I'm some addle-brained lucky asshole named Kohta living in a 'harem' house.
Basically, after Lucy and Kohta have their exchange and she tells him she doesn't deserve anything good in life she takes off to fight Mariko. Nana tries her best, but ends up getting bested with an unreal ease that makes her look like an amateur. Lucy doesn't prove to be much of a fight for Mariko either, but it's the closing scenes that count. When Kurama comes and takes Mariko away, and he's carrying her in his arms because her body is so weak that she can't walk, never even had the opportunity to learn. He carries her away and apologizes for never having been a father, that made one of the most tragic and amazing ends in any show. As he walks with her along the pier the two get blown up by, I can't remember if it was a nuke or bomb, something. And I think in the manga Kurama jumps or gets pushed at the last minute and survives the explosion. Either way it was pretty powerful, because even though Mariko was evil as fuck, she was still a product of a world she'd been thrust into. She was just a child who never stood a chance. For all anyone knew she might have ended up like Nana instead of like Lucy. Instead of a crazed killer, she might have been eating rice balls with Kurama, standing on the pier looking out into the great gorgeous waves of the sea, standing on her own two perfectly working legs. Alas, things didn't work out that way.
Also, like I stated before: Lucy's end is unspecified in the ending of the anime. The whole series she spends time trying to fix the grandfather clock in the hotel she, Kohta, Nana, and the others live in. Only she's in her Nyu amnesia-induced state when she does this, as Lucy wouldn't give two flying shits about fixing a clock when she could just kill everyone in the house. I just really loved the part where the animation shows the grandfather clock and there's a ring of the doorbell while everyone's having lunch. You get this feeling that it's her, but they never show you, and the clock begins to chime showing that she actually did fix it. It leaves you feeling all weird inside like IS IT HER?! If you watch the OVA it gives her a clear ending, sort of.. but that's irrelevant to the story as it takes place as a cutesy little OVA that doesn't really add much anyway.
Clannad - Tomoya/Tomoyo
(Motherfucker I love me some depressing romantic anime)
Throughout this whole anime I'm wanting Tomoya to get with Tomoyo, because they look like they belong together. But nope, dude chooses some other broad not even worth mentioning because she's literally boring as hell. Not even a biased opinion, really (totally biased and shameful). The girl is boring as hell, but hey I didn't write the show and have really no reason to complain, right?
So here it is.
They did do like an alternate ending of the show where Tomoyo and Tomoya end up being a couple, but because Tomoyo is such a hard worker and Tomoya is like a slacker type of dude he feels like he's only bringing her down. And he's not the only one who shares this sentiment. An underclassmen points out the same thing to him and not so kindly asks him to leave Tomoyo alone.
Tomoya feeling completely heartbroken about the whole thing decides that is really is best to let Tomoyo go and be free of him so she can create her wonderful future. It is literally one of the most depressing things I've ever watched, and I'm a dude who watches shows like Gungrave and Samurai 7. I have no fucking idea how I came to actually sit down and watch Clannad, but I'm so glad that I did. It's one of those endings where you really care about the two people, really want them to be together.
After everything goes down, they haven't spoken in some time, each carrying on with their respective jobs. Then finally they meet again at the railroad crossing, begin to walk together, and they talk. Tomoyo declares her love for Tomoya, and of course he still feels the same, so they end up together again. What made it all that more beautiful to me is that they reunite under the cherry blossom trees that Tomoyo had set out to save. It was the whole reason for the 'break up' thing. Tomoya felt like he was holding her back from being able to fully realize the dream of saving those trees. And to top that off it's snowing, which adds like a whole other level of wonderment to the picture. It was really a coming of age thing with the two of them, coming to grips with life as a young adult, and ultimately making decisions that will impact their future.
It feels like they definitely needed that break up to come to the conclusion that they belonged together and they they would grow old together. The combination of falling sakura leaves (cherry blossoms), the snow, and just the ambiance was stellar, to say the least. I really wanted the best for the two of them, wanted them to have an amazing life together and grow old and having fucking kids. It's one of those shows I'm not afraid to say I loved.. dearly even.
(note: I didn't screw up the names. The chick is actually named Tomoyo and the dude Tomoya.)
So in closing, smoke weed errday.
Thanks for your time.
-OscarxGrind